The on-going Coronavirus disease (COVID-19) outbreak in China has become the world's leading health headline and is causing major panic and public concerns. On January 30, 2020, the World Health Organization (WHO) declared that the new coronavirus outbreak is a public health emergency of international concern. 1 The virus has already had a direct impact on more than 10 million people in the city of Wuhan and has reached other parts of China as well, posing a health threat of unknown magnitude globally. As of February 8, 2020, WHO reported 34,886 confirmed cases of COVID-19 globally, with 34,589 of them occurring in China (including 6101 severe cases and 723 deaths). A total of 288 other confirmed cases (with 1 death) have been reported in 24 countries, including Japan, Australia, Germany, and the United States. However, these daily estimates are expected to rise even higher as reports from health authorities in China3 are gathered and near real-time updates of the Johns Hopkins virus dashboard are made.4 The outbreak has caused governments in various countries to take swift and protective measures. In China, these included putting cities on lockdown, implementing travel warnings/bans and cancellations, 6 extending national holidays, and closing schools and postponing classes.
Currently, there is no vaccine for the prevention or treatment of the illness caused by the virus; its origins and the ultimate extent of this epidemic remain unknown. There have been more than 50 research papers published within the last 20 days8 that have allowed for the rapid sharing of scientific information about the virus, but serious questions regarding the causes or mechanisms of transmission, incubation period, risk assessments, and options for effective treatment or intervention of the virus remain largely unanswered. There have been reports of significant shortages of medical staff, a lack of clinics that can handle and treat infected patients, and high demands for face masks for protection. The Chinese central government is working with extraordinary diligence to mobilize resources, including building new hospitals and developing a new coronavirus vaccine, as well as sending medical experts and clinicians to the city of Wuhan10 to help contain the highly transmittable virus outbreak from spreading further.
With the continuing coronavirus spur, the public has been advised by various health authorities to reduce traveling and stay at home as a basic means of limiting people's exposure to the virus. Health authorities, including the National Health Commission of the People's Republic of China,11 WHO, and the U.S Centers for Disease Control and Prevention, have issued safety recommendations for taking simple precautions to reduce exposure to and transmission of the virus. Unfortunately, the mandated restrictions on travel and directives against participating in outdoor activities, including regular physical activity and exercise, will inevitably disrupt the routine daily activities of tens of millions of people.
While containing the virus as quickly as possible is an urgent public health priority, there have been few public health guidelines for the public as to what people can or should do in terms of maintaining their daily exercise or physical activity routines. Arguably, staying home, while a safe measure, may have unintended negative consequences since such efforts to avoid human-to-human transmission of the virus may lead to reduced physical activity. It is likely that prolonged homestay may lead to increased sedentary behaviors, such as spending excessive amounts of time sitting, reclining, or lying down for screening activities (playing games, watching television, using mobile devices); reducing regular physical activity (hence lower energy expenditure); or engaging in avoidance activities that, consequently, lead to an increased risk for and potential worsening of chronic health conditions.14 Therefore, there is a strong health rationale for continuing physical activity in the home to stay healthy and maintain the immune system function in the current precarious environment.
Exercise at home using various safe, simple, and easily implementable exercises is well suited to avoid the airborne coronavirus and maintain fitness levels. Such forms of exercise may include, but are not limited to, strengthening exercises, activities for balance and control, stretching exercises, or a combination of these. Examples of home exercises include walking in the house and to the store as necessary, lifting and carrying groceries, alternating leg lunges, stair climbing, stand-to-sit and sit-to-stand using a chair and from the floor, chair squats, and sit-ups and pushups. In addition, traditional Tai Ji Quan, Qigong exercises, and yoga16 should be considered since they require no equipment, little space, and can be practiced at any time. The use of eHealth and exercise videos, which focuses on encouraging and delivering physical activity through the Internet, mobile technologies, and television are other viable avenues for maintaining physical function and mental health during this critical period.
Official measures that restrict people's movements in the presence of the coronavirus crisis do not necessarily mean that physical activity must be limited or that all forms of exercise must be eliminated entirely. Exercise has been shown to have clear health benefits for healthy individuals18 and for patients with various diseases. In this respect, we strongly echo Dr. Steven Blair's quote from Dr. Ken Powell: "Some activity is better than none, and more is better than less" (p. 525). The aim should be to undertake at least 30 min of moderate physical activity every day and/ or at least 20 min of vigorous physical activity every other day.18 Ideally, a combination of both intensities of physical activities is preferable in addition to practicing strengthening-type activities on a regular basis. Children, the elderly, and those who have previously experienced symptoms of illness or are susceptible to chronic cardiovascular or pulmonary disease should seek advice from health care providers about when it is safe to exercise.
Given the concerns about the increasing spread of COVID-19, it is imperative that infection control and safety precautions be followed. Homestay is a fundamental safety step that can limit infections from spreading widely. But prolonged home stays can increase behaviors that lead to inactivity and contribute to anxiety and depression, which in turn can lead to a sedentary lifestyle known to result in a range of chronic health conditions. Maintaining regular physical activity and routinely exercising in a safe home environment is an important strategy for healthy living during the coronavirus crisis.
Acknowledgments
The authors thank Keyi Yin, Wei Zhuang, Yiahua Zi, Yao Tong for their technical assistance in compiling and verifying the data provided in the article.
Competing interests
The authors declare that they have no competing interests.
The NSCAs Registered Strength and Conditioning Coach® (RSCC) is a designation that signifies that a CSCS®  certified coach has demonstrated experience and knowledge in their field. RSCC coaches apply foundational knowledge to assess, motivate, educate, and train athletes for the primary goal of improving sports performance.
There are three levels of RSCC:
1. Registered Strength and Conditioning Coach® (RSCC) – CSCS certified coaches who have two (2) years of experience or more in the field.
2. Registered Strength and Conditioning Coach® with Distinction (RSCC*D) – CSCS certified coaches who have 10 years of experience or more in the field.
3. Registered Strength and Conditioning Coach® Emeritus (RSCC*E) – CSCS certified coaches who have 20 years of experience or more in the field.
RSCC Registry
The NSCA RSCC Registry is a tool to help employers easily identify and verify that employees and potential candidates have earned the RSCC designation.
View Registry
RSCC: The Badge of Credibility in Professional Sports
Learn how the RSCC is becoming a requirement for employment in some professional sports leagues. Read Article
Did you know? To be eligible for one of the NSCA's Annual Coaching Awards, nominees must hold a current RSCC designation.
Learn More
RSCC Frequently Asked Questions
Is the RSCC different from the CSCS?
The CSCS is the credential that signifies you have the CSCS certification. The RSCC is a designation given to strength and conditioning coaches who have the CSCS and a minimum of two years of experience in the practical application of assessing, motivating, educating, and training athletes for the primary goal of improving athletic performance. The designations help inform employers and others that the coach has the educational base and experience needed to work with athletes in a team environment.
Does a Registered Strength and Conditioning Coach (RSCC) need to work at a school or with a professional team or can a Registered Strength and Conditioning Coach (RSCC) work in the private sector?
If a strength and conditioning coach has trained sport teams for the purpose of athletic performance for two or more years in the NCAA, MLB, NFL, NBA, NHL, USOC, or if he/she oversees a high school strength and conditioning program, they qualify. The NSCA will assess each candidate's status using these criteria. Each candidate is subject to an on-site visit by an NSCA representative to assure the candidate meets the RSCC qualifications.
Is the RSCC available to athletic trainers?
The Registered Strength and Conditioning Coach program is limited to full-time, designated strength and conditioning coaches. ATCs, Physical Therapists, or other medical professionals who are the designated strength and conditioning coach at their school may apply for consideration.
Is the RSCC available to personal trainers?
This program is limited to full-time, designated strength, and conditioning coaches. Personal trainers or other fitness professionals who work one on one with clients are not eligible for this designation. Personal trainers may qualify for the Recognized Certified Personal Trainer program.
Graduate Education Recognition Program
What are the areas of liability for a Registered Strength and Conditioning Coach?
Specific areas of liability for anyone that supervises a strength and conditioning program are 1. Pre-participation screening and clearance; 2. Personnel qualifications; 3. Program supervision and instruction; 4. Facility and equipment setup, inspection, maintenance, repair, and signage; 5. Emergency planning and response; 6. Records and record keeping; 7. Equal opportunity and access; 8. Participation in strength and conditioning activities by children; and 9. Supplements, ergogenic aids, and drugs.
What if I am unable to get an affirmation letter from a former employer?
Previous work experience must be documented and verified, this may be possible by your current supervisor in special circumstances. Please contact the RSCC program representative to apply for special consideration. RSCC@NSCA.com
Does my graduate assistantship or internship count towards the required years of experience?
Individuals serving for two (2) years as a graduate assistant at a strength and conditioning institute recognized by the NSCA as a& Graduate Education Recognition Program are eligible for recognition. Graduate Education Recognition Program
When do I need to complete the RSCC Renewal Course?
You have from December 1st to December 31st each year to complete the Renewal Course.
How much time will the RSCC Renewal Course take to complete?
A PowerPoint document is provided at the beginning of each section to help you complete each five-question section of the course. Reading the PowerPoint document and answering the questions should take less than one hour to complete; however, there is no time limit to complete all 25 questions. You will be able to have the questions and power points open at the same time on your screen. Once you are confident in your answers, submit the questions for grading.
Can I refer to the Renewal Course PowerPoint Chapters when taking the quiz?
Yes. This practice is encouraged.
Is there a time limit? What happens if my computer shuts down while taking the quiz?
There is no time limit. Your quiz is not "official" until you hit the Submit button. If you start the quiz and cannot finish it, you may return later to take it again. NOTE: Your answers will not be saved until you hit the Submit button. If you start the quiz and do not finish, you will have to start over from question #1.
Are there any CEUs available for completing the RSCC Renewal Course?
Completion of the Renewal Course will provide 0.5 CEUs annually towards your CSCS®.
How much does the RSCC Renewal Course cost?
A $25 renewal fee serves to renew your RSCC status until December of the year you renew and covers the cost to print an updated certificate. Except for the RSCC*E, you must take the Renewal Course annually.
What is the passing score for the RSCC Renewal Course?
Failure to score 70% or higher will require a second attempt. Please note, each attempt requires a $25 fee.
What happens if I do not pass the RSCC Renewal Course before 12:00 AM on December 31?
Failure to complete the RSCC Renewal Course before December 31st will result in removal from the RSCC Registry. A late option is available for a $15 fee per attempt after December 31st.
What happens once I complete the RSCC Renewal Course?
Your new certificate will be emailed in January. The RSCC Registry will be updated on the website.
Certified Strength and Conditioning Specialists® (CSCS®) are professionals who apply scientific knowledge to train athletes for the primary goal of improving athletic performance. They conduct sport-specific testing sessions, design and implement safe and effective strength training and conditioning programs, and provide guidance regarding nutrition and injury prevention. Recognizing that their area of expertise is separate and distinct, CSCSs consult with and refer athletes to other professionals when appropriate. Register for the CSCS Exam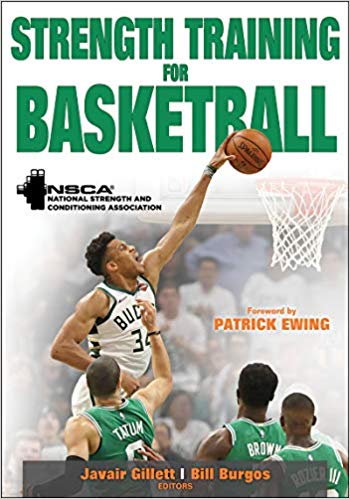 Strength Training for Basketball (Strength Training for Sport)
Why is strength training important for the basketball athlete? In a dynamic game that changes by the instant, athletes need to be conditioned to sustain the highly stressful workloads experienced during practice or a game. For the basketball athlete, that means strength cannot be defined only as a measure of how much weight the person can lift; rather, it is an ability that should be judged by whether it can successfully be applied on the court.
Developed with the expertise of the National Strength and Conditioning Association (NSCA), Strength Training for Basketball shows you how to design resistance training programs that will develop your athletes' strength on the court—helping them to jump higher, accelerate faster, and abruptly change direction. The book will help you understand the specific physical demands of each position—point guard, shooting guard, small forward, power forward, and center. You will also find the following:
20 testing protocols for measuring and assessing athletes' strength, reactive strength, power, speed, agility, endurance, and anaerobic capacity
18 total-body exercises with 2 variations
19 lower body exercises with 3 variations
17 upper body exercises
11 anatomical core exercises with 5 variations
16 sample programs for the off-season, preseason, in-season, and postseason resistance training
Each resistance training exercise consists of a series of photos and a detailed list of primary muscles trained, beginning position and movement phases, breathing guidelines, modifications and variations, and coaching tips to guide you in selecting the right exercises for a program. You'll also learn how to structure those programs based on the goals and length of each season and for each position.
Backed by the NSCA and the knowledge and experience of successful high school, college, and professional basketball strength and conditioning professionals, Strength Training for Basketball is the authoritative resource for creating basketball-specific resistance training programs to help your athletes optimize their strength and successfully transfer that strength to the basketball court.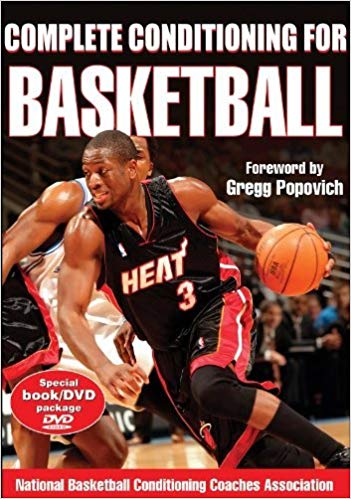 Complete Conditioning for Basketball
Complete Conditioning for Basketball presents the ultimate in training for the sport from the National Basketball Conditioning Coaches Association, the experts who work daily to maximize the performance potential of the game's top stars.
Build your strength and power to be a beast on the boards. Improve your quickness and agility to be a defensive stopper. Increase your vertical jump to rise over defenders for uncontested shots. With over 200 exercises, drills, performance tests, and workouts, plus a 60-minute instructional DVD, Complete Conditioning for Basketball is the most comprehensive training resource for men and women at all levels of competition.
Get the most out of your workouts and add new dimensions to your game. Complete Conditioning for Basketball will help you to fulfill your potential and make the most of every opportunity on the court.
Who is behind the Miami Heat's strength and conditioning program? A son and his father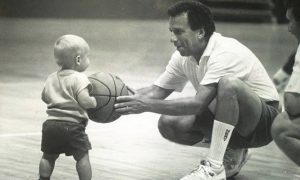 Most workdays start the same for the Heat's strength and conditioning team of Eric Foran and Bill Foran.
With Eric living less than two miles away from his father, Bill, they carpool from Pembroke Pines to AmericanAirlines Arena.
"He picks me up in the morning," Bill said. "We listen to either a podcast or audiobook on the way in and talk about it. So it's pretty cool. Usually, we take his car. He drives in the morning, I'll drive home."
If the podcast or audiobook ends before they arrive at their destination, they almost always have plenty to talk about. Eric, 32, is in his third season as the Heat's head strength and conditioning coach, and Bill, 66, is in his third season as the Heat's strength and conditioning consultant.
Local News at Your Fingertips
Get unlimited digital access for just $3.99 a month to #ReadLocal anytime, on any device.
"I love working with Eric. He's one of my favorite people," coach Erik Spoelstra said, with the Heat in the middle of a three-day break during the holidays before continuing its homestand Friday against the Pacers. "He has a great positive spirit about him every day. He never has a bad day. I love being around guys like that."
This unique father-son combo wasn't planned. It just happened, with Eric's post-graduation Heat internship eventually turning into a full-time position in a strength-and-conditioning department his father helped turn into a driving force behind the organization's mantra of being "the hardest-working, best-conditioned, most professional, unselfish, toughest, nastiest, most disliked team in the NBA."
"He needed an internship," Bill said of his son. "We don't do internships with the Heat. But I went to [Heat president Pat Riley] and Pat said, 'Yeah, definitely an internship.' I thought he would do an internship and be on his way. But the one semester turned into a year, turned into two years as an intern. Then they approached him to come on full-time as an assistant. Now it's him taking over. So it just kind of happened."
Bill, who has been with the organization since its inception, was the Heat's strength and conditioning coach for 29 seasons before his son stepped into the role prior to the start of the 2017-18 season. Bill became the longest-tenured strength and conditioning coach in NBA history and was inducted into the USA Strength and Conditioning Coaches Hall of Fame in 2014.
Before following in his father's footsteps, though, Eric was a competitive athlete. He captured a state title in the pole vault as a senior at St. Thomas Aquinas and went on to become an All-SEC pole vaulter on the University of Florida's track and field team that won two national championships during his collegiate career from 2007-11.
"Being an athlete, I always enjoyed the training aspect and learning how to be the best that I can be," Eric said.
So, Eric went from pursuing an undergraduate business degree to obtaining a master's degree in Applied Physiology and Kinesiology during his time in Gainesville.
"Being able to apply that knowledge here and working with these players has been great," said Eric, whose first assignment with the Heat was 2012 summer league. "I started as an intern and I was doing my internship. I wasn't sure how long I would be here. Thought it might be a quick thing, graduate, and move on. But it's such a great atmosphere here and a great support system for strength and conditioning."
Now, Eric is responsible for creating and implementing training programs that optimize player performance on the court. He also oversees and maintains the Heat's weight room.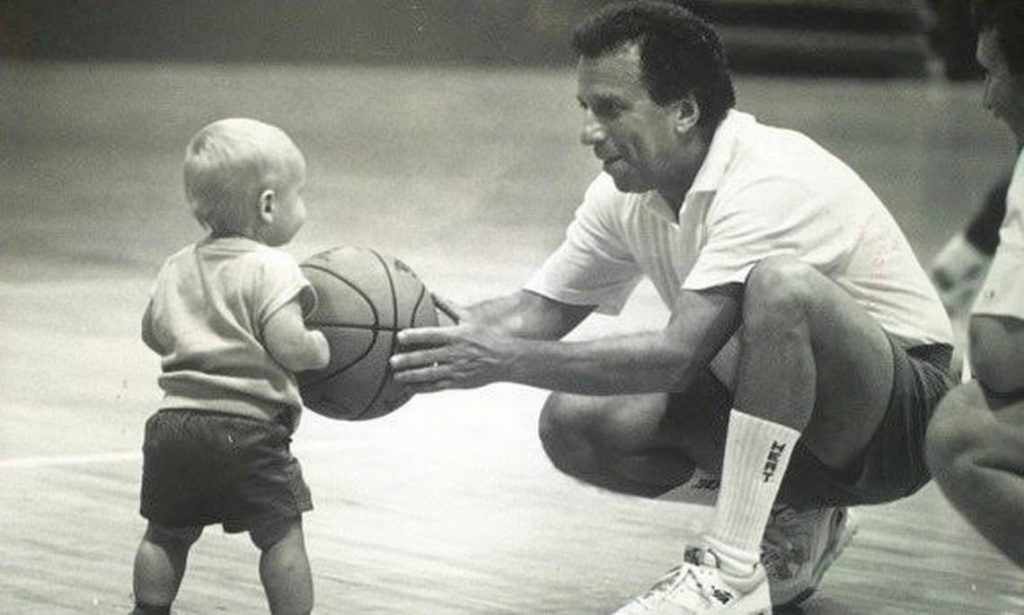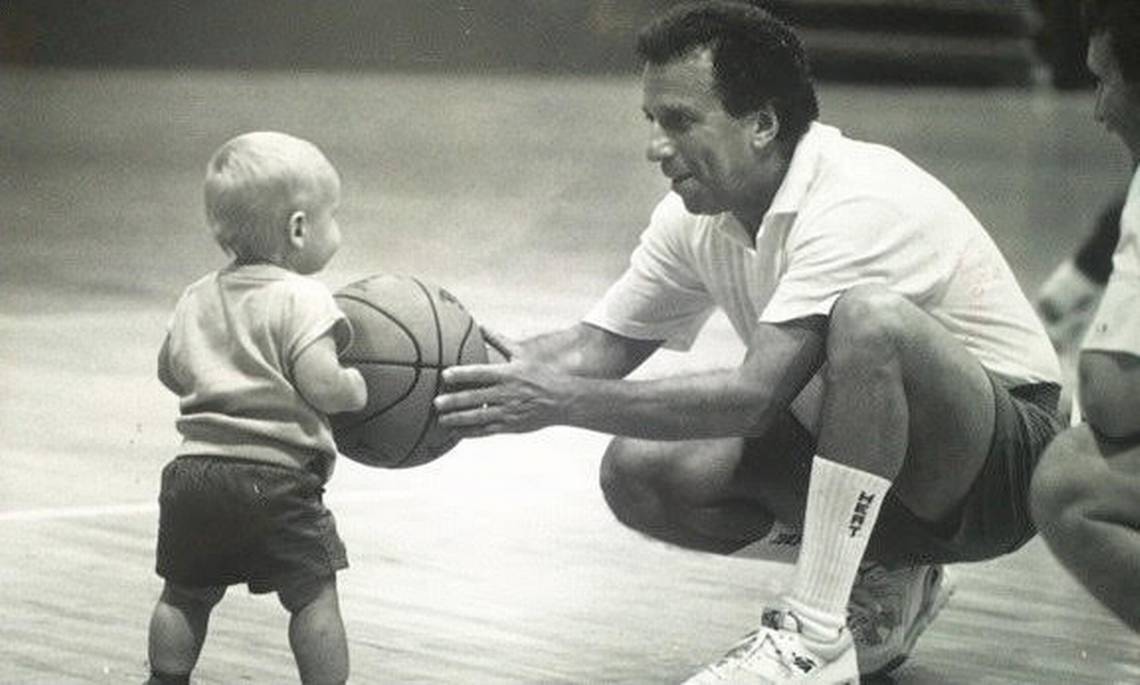 How did Bill know Eric was ready to move from strength and conditioning intern to assistant strength and conditioning coach to eventually the lead role?
"Just observing his coaching and what he does in the weight room," Bill said. "He does things players can't do, so he has instant respect. For example, it was just his 32nd birthday a few days ago. So a bunch of the players came in for his 32nd birthday, and he did 32 pull-ups. Who can do that? So he has instant respect from the players with what he can do. His nickname is Captain America."
That nickname is well-earned, with Eric building a reputation as one of the top athletes in the Heat organization — players included.
"He's off the chain," veteran Heat forward Udonis Haslem said. "He might be the best athlete on the team."
Along with the 32 pull-ups he recently completed in front of the team, there's video proof of Eric's 40-inch box jump off one leg. And Eric can also do squats on an exercise ball.
"Eric is one of the most incredible athletes I've ever seen," Spoelstra said. "He can be on one of those late-night shows with random acts of strengths and athleticism."
All of this led Bill to realize he could finally back off a little and allow somebody else to run the Heat's strength and conditioning department. It just so happened to be his son.
These days, Bill is still very involved. He works all of the Heat's home practices and games and is part of the team's offseason program, but he just doesn't travel on trips anymore.
"I'm letting Eric run the show and I help him out," Bill said.
For Eric, having a resource like his father with so much experience in the field is helpful. Even when they're thousands of miles apart while Eric is on the road with the team, they're in constant communication about different ideas and strategies.
"I'll at least bounce ideas off of him," Eric said. " What do you think about this? I'm thinking about doing this with this guy. Because the NBA schedule is so crazy, so many changes every week. So to do a good job, so much of that is dependent on experience. You can't just read a textbook and think you know how to do NBA strength and conditioning because it's different than other settings. It's 82 games, we got to travel and you got this and you got the next thing."
The Forans have become an important part of the Heat's "culture." Bill is an employee who has been with the organization since its inaugural season in 1988, and he helped build a strength and conditioning program that is widely considered one of the best in the NBA.
Current and former Heat players have credited Bill and Eric with helping to transform their bodies. In forward James Johnson's first season with the Heat in 2016-17, he dropped close to 40 pounds and got down to 6.75 percent body fat.
"It has a lot to do with the player, but all the compliments and all the rewards should go to the Forans," Johnson said that season.
While Eric brings a new-school approach to the job, the philosophy behind the Heat's strength and conditioning program remains the same.
"It's about work. They are determined on pushing guys to get better," Haslem said of the Forans. "There's a science behind it. It's not just getting in the gym and clang the weights. There's a science behind it. So they've perfected the science behind it. Eric is the second generation. He has grown up in the system and has grown up in the organization and the culture. So who knows it better than him?"
That's one of the reasons the Heat believed Eric would make the perfect successor to Bill.
"We're unique," Spoelstra said. "Our dedication to being in world-class shape requires an understanding of how important that is to this franchise because of Pat. Eric grew up in this culture and this environment. He doesn't know anything else. He trained in it. And whatever we ask our players to do, he can literally do it and probably better."
Eric would come into the Heat's facility during his pre-teen years, and Spoelstra would put him through basketball workouts. Now, Eric delivers each Heat player's weight and body fat numbers to Spoelstra every week.
There's a baby photo the Forans have kept of Eric standing next to the Heat's first head coach, Ron Rothstein, during the team's 1988-89 inaugural season. Now, Eric leads the Heat's strength and conditioning department and Rothstein is a member of the Heat's broadcast team.
"I'm so used to it by now, it just is what it is," Eric said of coworkers who watched him grow up. "It's a tight-knit group. We're used to the daily grind where I just do my job and get the body fat and give it to [Spoelstra]. But it is funny sometimes to take a step back and think about that. I remember working with these coaches when I was in elementary school."
Spoelstra remembers working with Eric back then, too.
"Bill has raised a son how you would want a son to be raised," Spoelstra said. "I hope I can be that successful with my sons because he has a terrific outlook on life, a work ethic, a curiosity and he has integrity and character. Whatever your position is, if you have those things, you're going to be great at it."
Both Bill and Eric used the same word when asked what it's like to work alongside each other.
"Amazing on all levels," Eric said. "Being a Hall of Famer with such a long career and multiple championships, and being able to learn the profession from him. But also just on a human level, being able to spend time with my dad is amazing."
How often does work come up outside of work?
"24/7. We enjoy it," Bill said. "We like talking about strength and conditioning and different studies and what's going on."
And if they're done talking about work, there's always a podcast or audiobook to listen to during their car rides together to and from the arena.
"It's always enjoyable. We catch up on things," Eric said of spending time with his father. "But it is one of those things. We're used to it, so it just kind of is what is. But it is fun sometimes to take a step back and think about how special all of this actually is."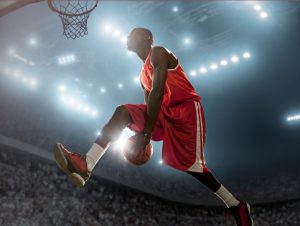 Jump Higher
The JUMP HIGHER PROGRAM was developed by MIAMI HEAT Strength and Conditioning Coach Bill Foran. This 12-week program will develop total body strength, and the plyometrics and power exercises will help you to enhance your neuromuscular power. Developed for basketball players, this program works for any athlete looking to improve total body strength and power (i.e. Volleyball, Football, Track, and Field athletes).
Benefits Include:
Increased Vertical Jump
Increased Sprint Velocity
Improved Core Stability
Increased Upper-Body Strength
Increased Work Capacity and Endurance
Decreased Risk of Injury
Decreased Body Fat
Because not all athletes are alike, different athletes will respond better to different training protocols. This program contains two separate training programs based on your individual needs.
We include a STRENGTH Emphasis Program and a SPEED Emphasis program that will address your own needs based on genetics, training history, and individual limiting factors.
The 12-week program is broken down into phases:
STRENGTH EMPHASIS
Introduction – 2 weeks
This is to introduce the body to all of the movements in order to learn the technique and build a strength base that is important to have before beginning the later phases.
Hypertrophy – 2 Weeks
This phase increases volume in order to increase the size of the muscle fibers because a larger muscle will be stronger, and strength is a prerequisite for the power that will be developed in later phases.
Strength – 4 Weeks
This phase reduces repetitions and increases the intensity in order to further maximize strength with less focus on size. The strength and power developed here will make a difference in the next phase.
Power – 4 Weeks
This is the phase that brings it all together. A decrease in the volume of strength training and an increase in the volume of power training will improve your explosiveness and jumping ability.
SPEED EMPHASIS
Introduction – 2 weeks
This is to introduce the body to all of the movements in order to learn the technique and build a strength base that is important to have before beginning the later phases.
Strength – 2 Weeks
This phase reduces repetitions and increases the intensity in order to further maximize strength with less focus on size. The strength and power developed here will make a difference in the next phase.
Strength/Power – 4 Weeks
A decrease in the volume of strength training and an increase in the volume of power training will improve your explosiveness and jumping ability.
Speed/Power – 4 Weeks
Now that the base is built, this phase increases speed and explosive movements to maximize power output. This phase takes advantage of post-activation potentiation by performing high-intensity strength exercises supersetted with a biomechanically similar explosive exercise.
The eBook file includes:
12 weeks worth of printable charts (Both the STRENGTH Emphasis and SPEED Emphasis are included)
Strength and power exercises for both lower body and upper body
Core stability exercises to efficiently utilize your power
Links to exercise technique videos
Alternative exercises based on equipment access or personal preference
Instructions on how to use the charts
BONUS: Tips for increasing your vertical jump NOW!