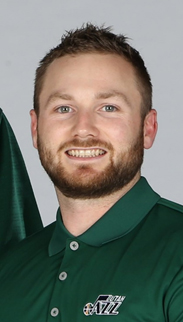 Isaiah Wright is the head strength and conditioning coach for the Utah Jazz. Wright joined the team during the 2012-13 season as a strength and conditioning intern and served as the assistant strength and conditioning coach from 2013-15.  The Salt Lake City native previously spent seven years with the franchise working with the team's equipment staff as a team attendant before joining the S&C staff.
Wright, an Executive Board Member of the NBSCA (National Basketball Strength Coaches Association) has served the last two seasons as the Western Conference Representative to his colleagues in the NBA.  
Wright, a graduate from the University of Utah and the College of Health (Exercise and Sports Science) excelled in computer technologies and found a passion for the utilization of new technological devices in conjunction with Strength and Conditioning/Applied Sports Science.  Wright actively participates in mentoring and networking events for the College of Health to continue to give back to his Alma Mater.
Wright is an avid outdoorsman that enjoys hiking, trail running, snowshoeing and spending time with family and friends. Wright lives in Holladay with his wife, Kelsey, daughter, Amina, and their dog, Ocie.