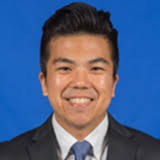 Originally joined Knicks as training room assistant in 2014-2015; promoted to current position in Summer '15. Assists in strength and conditioning and sports science.
Prior to joining Knicks, worked with University of Oklahoma as a graduate assistant athletic trainer for the men's tennis team…In 2014, the team achieved their first ever No. 1 national ranking, and a second place finish at the NCAA Championships.
Certified athletic trainer, certified strength and conditioning specialist, certified in functional movement screening.
Earned Bachelor of Science degree in athletic training from Boston University in 2011; Master of Education degree in intercollegiate athletic administration from University of Oklahoma in 2014; Master of High Performance Sport degree from Australian Catholic University in 2018. He's currently working on his Ph.D. degree in Health and Human Performance from Concordia University Chicago.